The amount of water contained in foods is critical in terms of quality, processing characteristics and legal requirements. Rapid real time monitoring is able to replace slower manual conventional moisture measuring involving drying ovens or a drying balance.
Results obtained with the M007 Systems are not influenced by the density, height of pile or color of the product analyzed. Therefore, natural variations in the size, color, mineral content, etc. especially of grains, oilseeds and products made from primary produce, will not affect results. Samples do not need to be weighed. Process systems benefit from the M007 being unaffected by the amount of product on the sensor or by varying grain sizes. M007 also enables moisture measuring of many different products, even with large-size particles, in their original shape and form without grinding or any other preparation.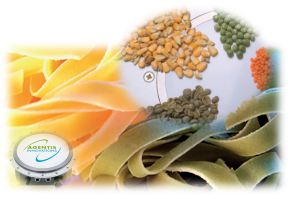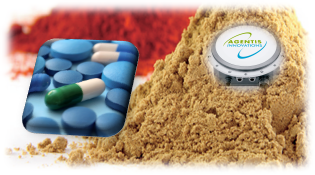 Moisture readings play a crucial role in processes such as powder drying and granulation. In addition the growing demand for 100% monitoring of all the weight in tablets produced and filled capsules necessitates the need for the precision and speed measuring that only the M007 technology can deliver. It is easy to understand why no other business puts as much stress on the quality of products, raw materials and processes as the pharmaceutical industry. When it comes to precision and speed, measuring must meet the very highest standards.
Application Example 1:  Spray Dryer
Measure the moisture as the material is inserted in a spray dryer. Taking continuous readings can help you determine when the process has achieved its target moisture. Thus, drying and granulation can be monitored properly.
Application Example 2: Hard Gelatine Capsules
The properties of hard gelatin capsules depend on moisture to a very high degree. Prior to automatic filling, the capsules need to be conditioned to attain a specific moisture level to ensure their physical properties are optimized. Moisture content can be measured online in the dryer in order to verify whether the capsule moisture is met for further processing. Automatic sampling is carried out in a bypass system to monitor the hard gelatine capsules. The moisture in the pressed powder could also be measured prior to insertion in the tablet pressing machine.
Application Example 3: Monitoring of The Weight in Tablets
As the production of pharmaceuticals has a tendency to increase continuous production control and documentation, there is a constant growing demand for 100% monitoring of all the weight in tablets produced and filled capsules. The weights cannot be monitored 100% by using balances at the speed of modern production lines. The M007 microwave instrument returns 10,000 moisture and mass readings every second, therefore making it the perfect tool for the high-speed separate measurement of rapidly passing tablets and capsules. The number of objects measured per unit of time is limited solely by the speed at which the objects are passed through the sensor – not by the measuring frequency. Microwave resonance sensors can be installed directly into the production machine or can operate in separate inspection equipment.
Leaf tobacco, cut tobacco, stems, cigarettes or cigars all require precise measurement of moisture.  The M007 is used globally for this function.
Our range of instruments includes portable testers, systems for laboratory use and process control, as well as special solutions for the measuring of moisture and weight distribution in separate cigarettes.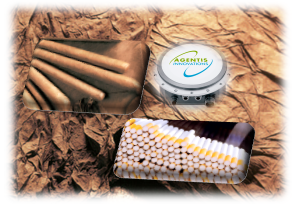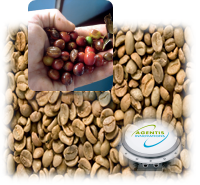 Highly accurate measuring system
Simultaneous measuring of moisture and bulk density
Volume moisture measuring regardless of color, even of freshly roasted whole beans
Throughout the world coffee is one of the most popular beverages and quality is key. Knowing the moisture content at various stages of the coffee production process not only vital for quality but also impacts cost control and legal compliance.
Another important aspect is the fact that, in many countries, consumer protection legislation limits the water content in the finished product to 5% and, therefore, the manufacturer undertakes measures not to exceed this limit. The use of M007 microwave moisture measuring can provide efficient assurance that the water content limits are adhered to with high accuracy at many stages of coffee processing. One prime example is green coffee which should contain no more than 13% water to safely exclude the risk of fermentation starting during storage or transit.
Knowing the exact water content of their coffee helps companies to comply with legal regulations while optimizing production – meeting both their objectives of ensuring a high quality level and maximizing profitability.
APPLICATION AND MEASURING POINTS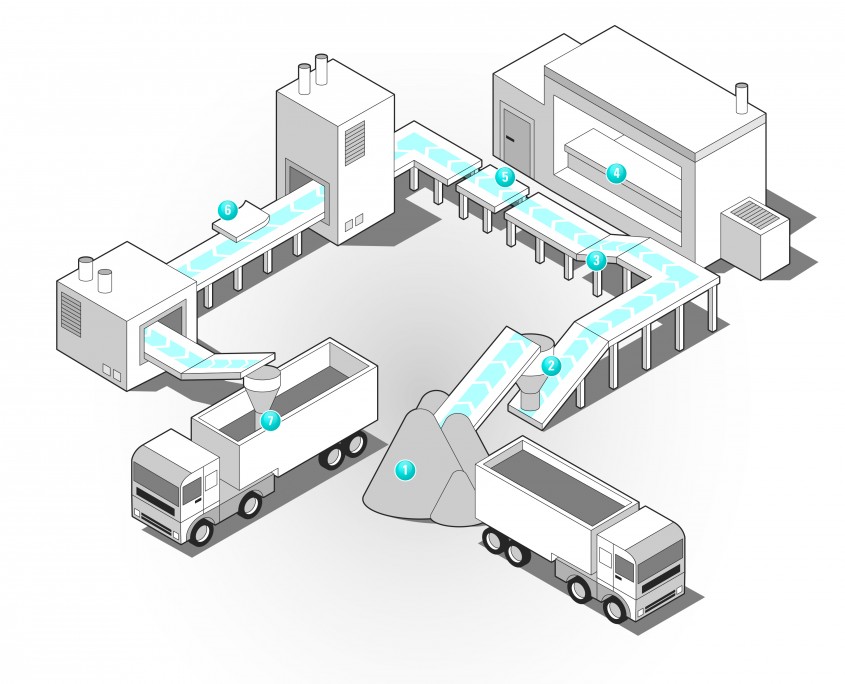 Hand-held for portable measurement
for quick moisture measurement during goods receipt inspection, or in storage.
M007 Mobile MW 1100 and MW 1100S Series

Sensor installation in the Silo hopper
Online measurement: Directly in the exhaust hopper or over a bypass.
M007, M007 Plus or M007 By-Pass

Sensor installation at ejection location
Sensor installation at the drop-off point at the end of a conveyor.
M007 or M007 Plus

Laboratory sensors for measurement on samples
For quality control and for ensuring quality, for product development or goods receipt inspection.
M007 Lab MW 1150, for routine measurements
M007 Lab MW 4300 or MW 4310 series for sophisticated laboratory applications.

Vibrating conveyor system
Installation of the planar sensor directly in a vibrating conveyor.
M007 Plus and special cable set.

Sensor installation in the sliding block
Installation of the M007 sensor above the product stream before the swaging, or granulating, of material on conveyor belts.
M007, M007 Plus or M007 By-Pass

Sensor installation in the wall on the buffer silo
Installation of the planar sensor between two conveyor belts, or vibrating conveyors.
M007, M007 Plus or M007 By-Pass